Okinawan-based Nordic Diet
Since 1999, researchers at Igelosa Life Science Community have been studying the effect of nutrition on health and lifestyle. This research was initiated to learn how to help patients waiting for heart and lung transplantations stay healthy enough to receive a new organ. We examined various long-term, evidence based studies from around the world. During this investigation, we learned about the people on the island of Okinawa – one of the healthiest and longest living populations on earth.
The island of Okinawa has a very small population, but a large number of its inhabitants live to over 100 years old. They not only have a high life-expectancy, but also have low incidence of various diseases that are common in Sweden, including heart disease, diabetes, cancer and hypertension.
Examining their lifestyle provided insight into their daily lives and how it affected their health. Some key principles of their daily lives include:
Eating a variety of different vegetables
Eating whole intact grains at most meals
Including vegetarian protein sources in their diet
Daily exercise, either as taking care of the garden or walking to visit family and friends
Daily interaction with others as part of the community
This lead to an examination of the food these people lived on by recreating a traditional Okinawan diet for two weeks on a group of participants at Igelosa. They ate a diet that included brown rice at most meals, lean fish, tofu, seaweed, bitter melon, sweet potatoes and other foods common to Okinawa. We found promising health results from eating an Okinawan style diet, but also discovered the participants missed the foods they usually ate.
With this knowledge we included chefs to our group of researchers and nutritionists. Together they took the principles of the Okinawan diet and started to adapt them to the traditional Swedish recipes and preferences. Over time, we were able to develop the Okinawan-based Nordic diet. The key principles were the same but the ingredients changed, based on the raw ingredients common to the Nordic region. Whole intact grains, vegetables, fruits, fish, game and beans and lentils formed the base of the diet.
In 2014 we initiated collaboration with other researchers to study the effect of an Okinawan-based Nordic diet. The first study was conducted on healthy participants to test two breakfast alternatives, one based on a traditional breakfast recommended to patients with type 2 diabetes and one an Okinawan based Nordic diet. You can read the results here: link.
In 2015, together with principle investigator Bodil Ohlsson, we conducted a pilot study on 30 patients with type 2 diabetes in Kävlinge commune in southern Sweden. During the course of twelve weeks, all meals and snacks were prepared at Igelosa and delivered to the patient's homes. You can read the published results of the study here: http://www.tandfonline.com/doi/full/10.3402/fnr.v60.32594
In 2016, Igelosa performed an indicative study on patients with type 2 diabetes. This time in collaboration with dentists and researchers at Kristianstad University to investigate the impact of an Okinawan based Nordic Diet on mouth health and inflammation. You can read more information regarding this study here:
Okinawan-based Nordic diet may improve mouth health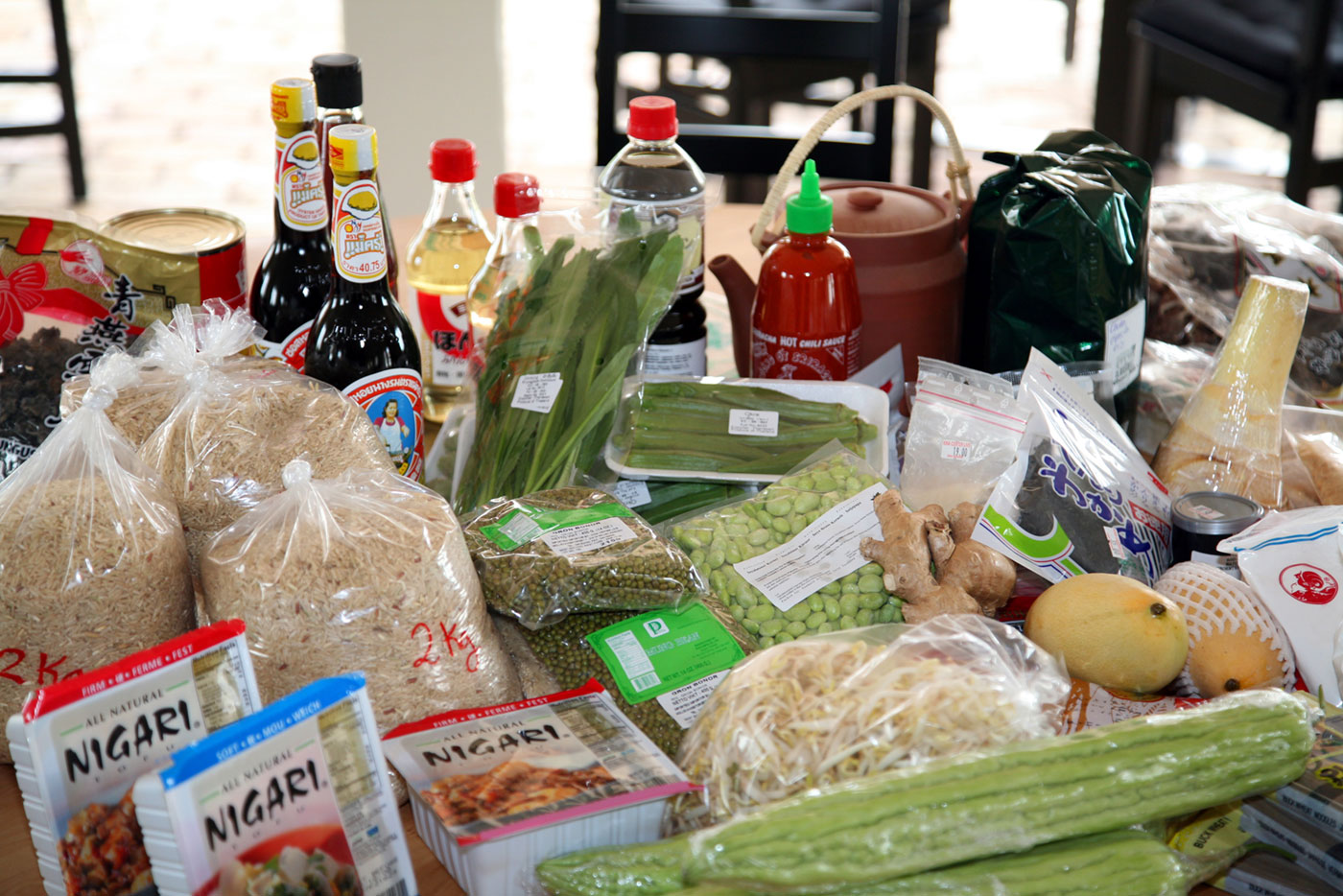 Example of traditional Japanese ingredients used by our chefs when preparing meals according to the original Okinawan-diet.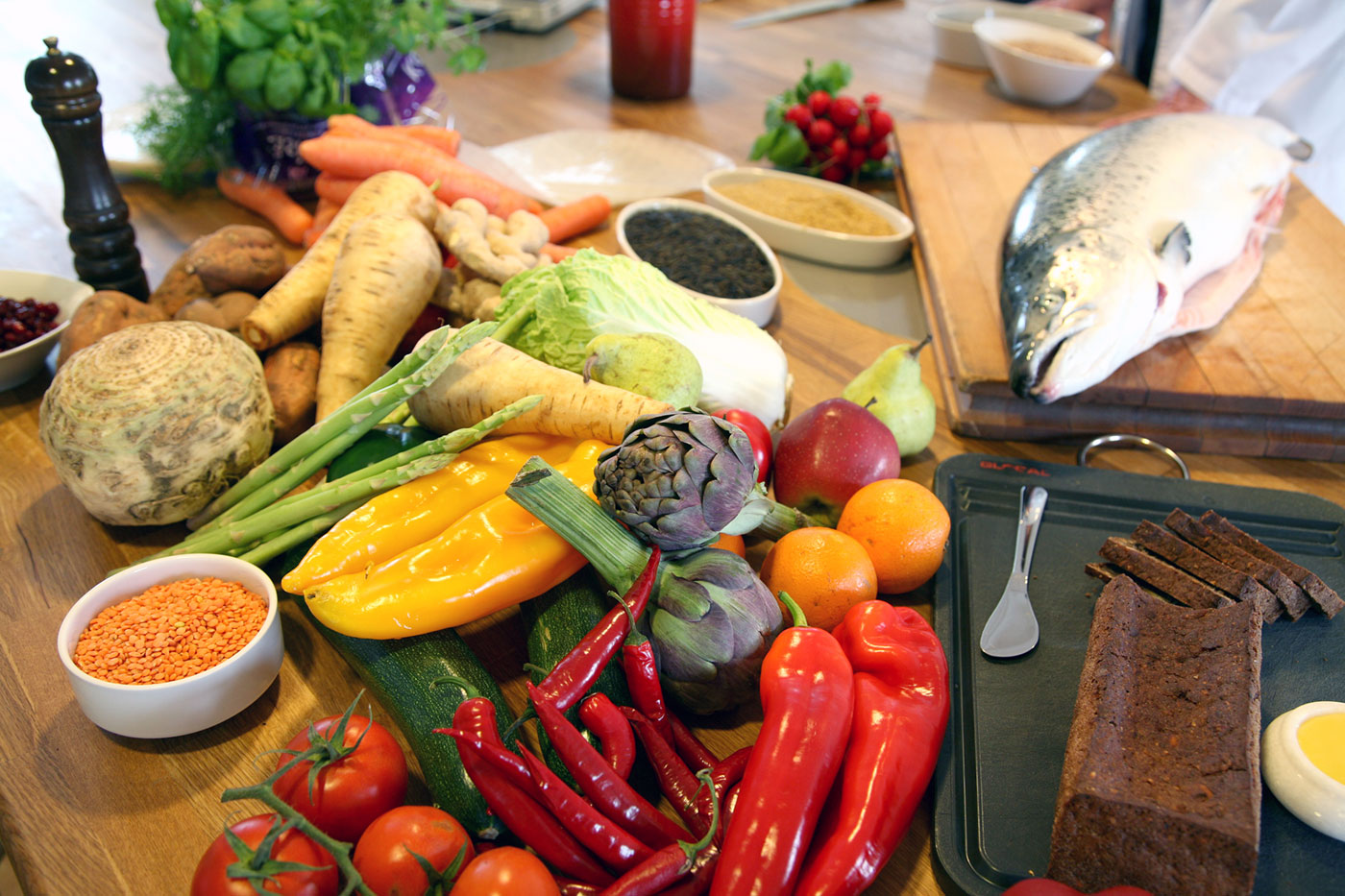 As part of our research and development, the chefs used local ingredients to adapt traditional Swedish dishes to fit the principles of the original Okinawan diet.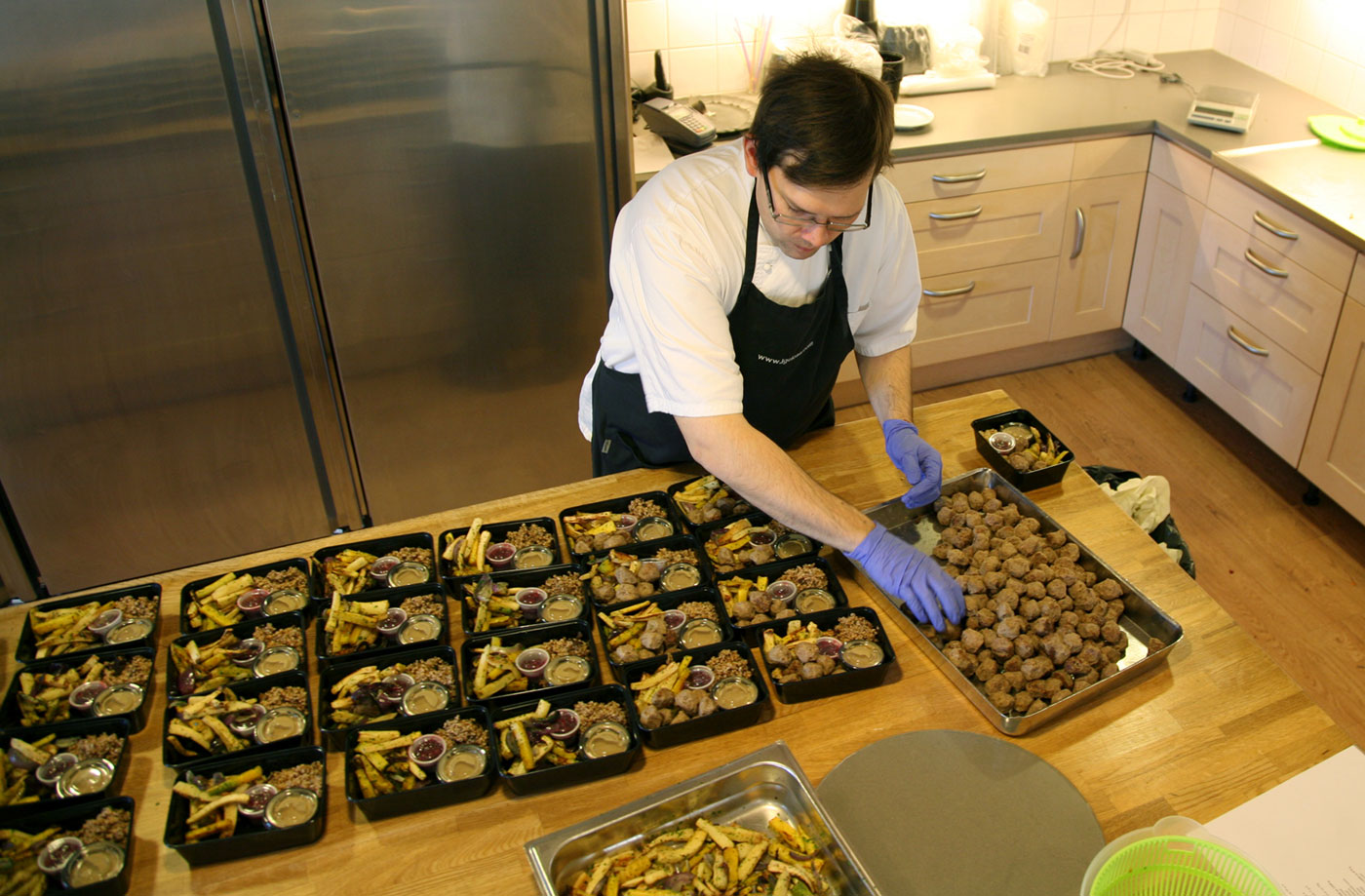 Packing individual meals for the 30 type-2 diabetes patients in the 2015 Kävlinge study.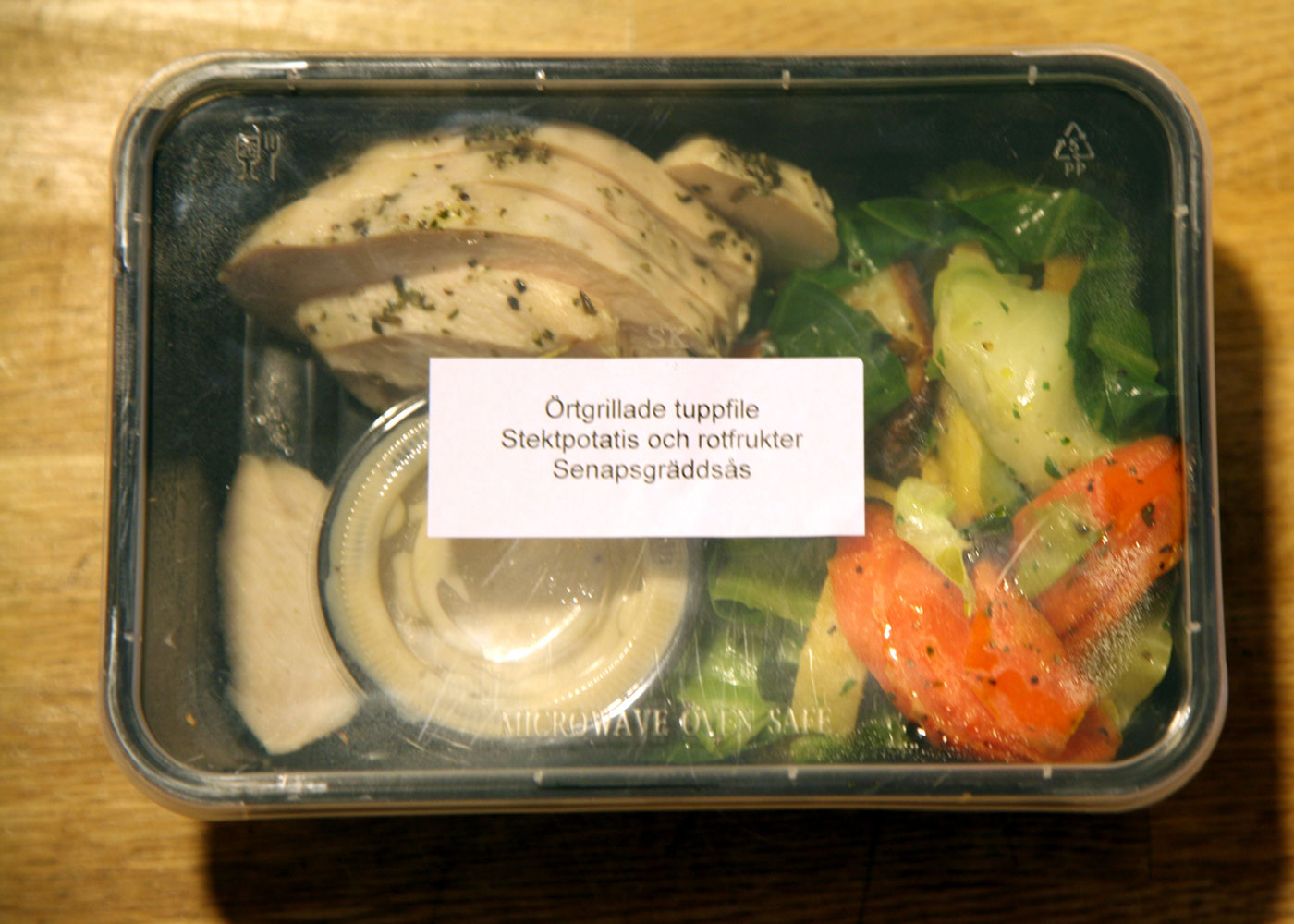 Example of a typical lunch/dinner.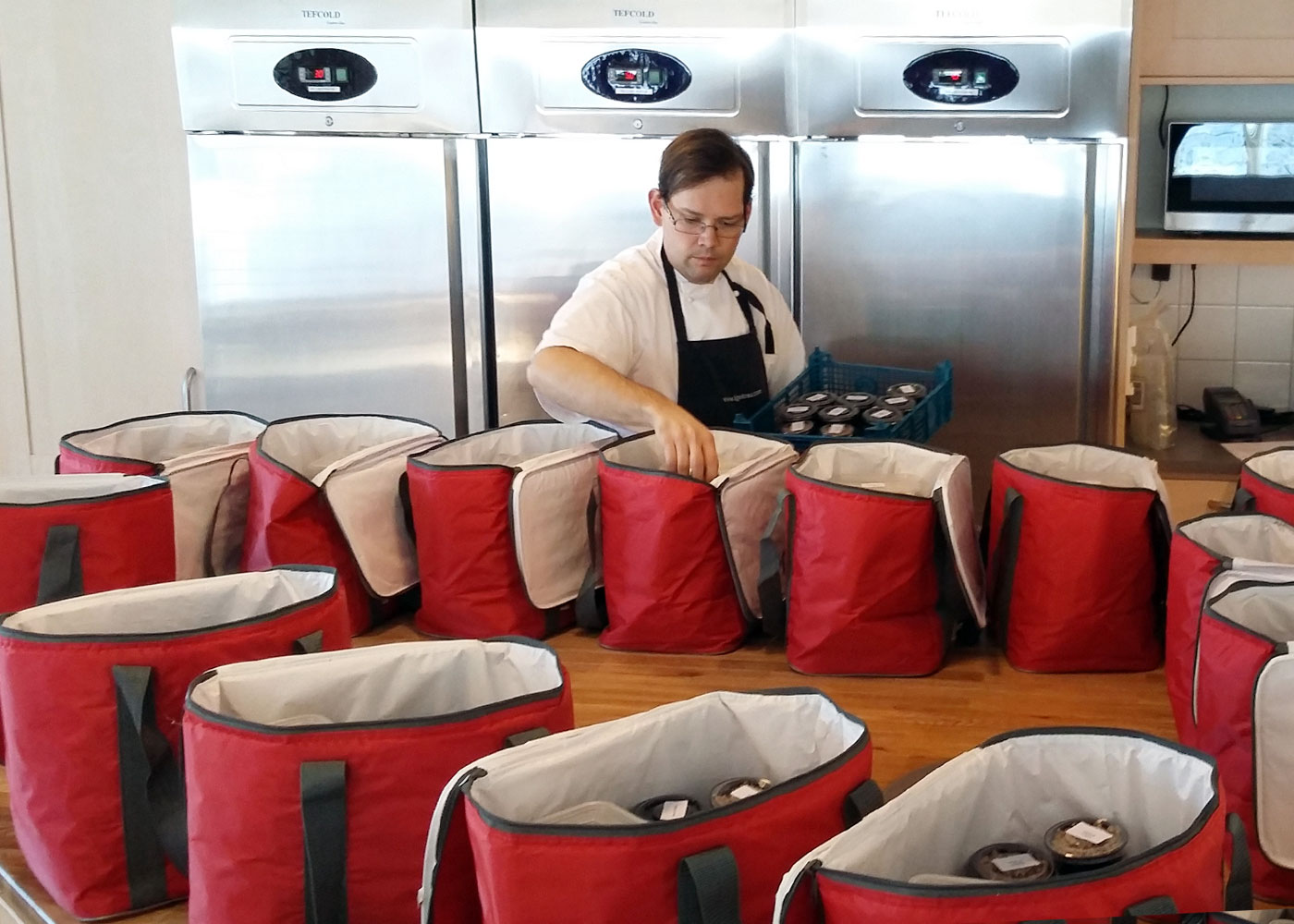 Each patient received a cooler bag with breakfast, lunch, dinner, snacks and fresh vegetables. The bags were delivered every second day by a designated driver, who also returned previously used bags to Igelosa.
The chefs individually weighed, labeled and packed each meal by hand. We regularly added questionnaires with food ratings, feedback, questions and concerns to the bags, allowing a system of direct communication between each patient and the kitchen staff.
Reference list:
Willcox DC, Scapagnini G, Willcox BJ. Healthy aging diets other than the Mediterranean: a focus on the Okinawan diet. Mech Ageing Dev 2014; 136: 148–62.
Suzuki M, Willcox BJ, Willcox DC. Implications from and for food cultures for cardiovascular disease: longevity. Asia Pac J Clin Nutr 2001; 10: 165–71.
Willcox BJ, Willcox DC, Todoriki H, Fujiyoshi A, Yano K, He Q, et al. Caloric restriction, the traditional Okinawan diet and healthy aging: the diet of the world's longest-lived people and its potential impact on morbidity and lifespan. Ann N Y Acad Sci 2007; 1114: 434–55.
Ohlsson B, Höglund P, Roth B, Darwiche G. Modification of a traditional breakfast leads to increased satiety along with attenuated plasma increments of glucose, C-peptide, insulin, and GIP in humans. Nutr Res 2016; 36: 359–68.
Willcox DC, Willcox BJ, Todoriki H, Suzuki M. The Okinawan diet: health implications of a low-calorie, nutrient-dense, antioxidant-rich dietary pattern low in glycemic load. J Am Coll Nutr 2009; 28: 500S–16S.
American Diabetes Association, Bantle JP, Wylie-Rosett J, Albright AL, Apovian CM, Clark NG, et al. Nutrition recommendations and interventions for diabetes: a position statement of the American Diabetes Association. Diabetes Care 2008; 31: S61–78.
Ley SH, Hamdy O, Mohan V, Hu FB. Prevention and management of type 2 diabetes: dietary components and nutritional strategies. Lancet 2014; 383: 1999–2007.
Lattimer JM, Haub MD. Effects of dietary fiber and its components on metabolic health. Nutrients 2010; 2: 1266–89.
Rolls BJ, Roe LS, Meengs JS. Salad and satiety: energy density and portion size of a first course salad affect energy intake at lunch. J Am Diet Assoc 2004; 104: 1570–6.
Adamsson V, Reumark A, Fredriksson IB, Hammarström E, Vessby B, Johansson G, et al. Effects of a healthy Nordic diet on cardiovascular risk factors in hypercholesterolaemic subjects: a randomized controlled trial (NORDIET). J Intern Med 2011; 269: 150–9.
Darwiche, G, Höglund, P, Roth, B, Larsson, E, Sjöberg, T, Wohlfart, B, Steen, S & Ohlsson, B 2016, 'An Okinawan-based Nordic diet improves anthropometry, metabolic control, and health-related quality of life in Scandinavian patients with type 2 diabetes: A pilot trial' Food and Nutrition Research, vol 60, 32594.
Further reading:
Ornish D, Brown S.E. Can lifestyle changes reverse coronary heart disease? The Lancet 1990, 366:129-134
Dean Ornish. Dr. Dean Ornish´s program for reversing heart disease. Ivy Book 1996
Dean Ornish. Love & Survival. The scientific basis for the healing power of intimacy. HarperCollins Publishers, Inc. New York. 1998
Bradley J Willcox, D Craig Willcox, Makoto Suzuki. Based on the Landmark 25-year study. The Okinawa Program. How the world´s longest-lived people achieve everlasting health – and how you can too. Three Rivers Press. New York. 2001.
Bradley J Willcox, D Craig Willcox, Makoto Suzuki. The Okinawa Diet Plan. Get leaner, live longer, and never feel hungry. Clarkson Potter/Publishers. New York. 2004
Walter C Willet. Eat, Drink, and Be Healthy. The Harvard Medical School Guide to Healthy Eating. A Harvard medical school book co-developed with the Harvard School of Public Health. Free Press. Simon & Schuster, Inc. New York. 2001
Igelosa Life Science AB
Igelösa 373
225 94 Lund